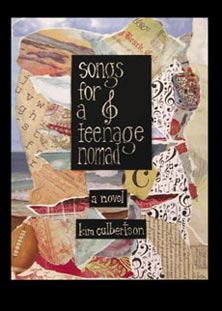 by Kim Culbertson 
www.kimculbertson.com
Available for $12.99 from your local bookstore or
www.amazon.com
What is the soundtrack of your life?
After living in twelve places in eight years with her drifting mother, fourteen year old Calle Smith finds herself in Andreas Bay, California, at the start of ninth grade. Fearful of putting down roots anywhere, but armed with her song journal, she moves to her own soundtrack through a world that bounces her between the school drama crowd, a mysterious loner, and an unlikely boy who will become her first love. But it's the troubling truth Calle uncovers about the father she thought abandoned her that forces Calle to face the toughest choice of her young life.
---
Reviews
"SONGS FOR A TEENAGE NOMAD is a wonderful book. It is a high school classic reminiscent of The Perks of Being a Wallflower, only it is more appropriate for a slightly younger audience. Calle is a wonderful character and, as the reader, you want her to succeed in all areas of her life."
– Becca Boland Teensreadtoo.com – 5 stars
"My readers devoured the book – read it in one sitting and totally recommended it to me. I was encouraged by the level of your prose – not dumbed down like some YA fiction. I look forward to future book… thanks for inspiring the students."
– Marybeth Colman, librarian, The Marin School, Sausalito, CA
"Songs for a Teenage Nomad explores many issues that are of interest to teenage girls and their moms – when is it okay for parents to withhold information they think is harmful to their children? What obligations does a child have to a potentially abusive parent? There's a lot to discuss in this well-written book."
– Motherdaughterbookclub.com
"As if being a freshman in high school isn't hard enough, Calle Smith has to endure a rootless life with a mother who can't seem to settle down in one town or with one guy. Told through a blend of prose, song lyrics, and musical references, Songs tells the story of a girl whose life resembles a random-shuffle playlist struggling to become comfortable in her own skin."
– AzTeen Magazine, a "Book Club" selection for Jan/Feb '08 issue
"In Songs for a Teenage Nomad, Kim Culbertson expertly captures the tumultuous adolescent experience."
– Maui Time Weekly, Maui, HI
---
Excerpts from the Novel
1: GET OUT THE MAP
"My dad named me Calle after a cat he had in college that ran away. He really loved that cat. I always thought that was funny since he was the one who ran away from me…and my mom."
2: SMALL TOWN
My new school smells like pickles, salty, clogged with a sea of faces that all look the same. The campus stands on a low hill facing the ocean. Across the road from the main office where I babbled to Mickey Mouse Tie, there's a small strip of buildings: a café, a hair salon, a movie rental place, and a doctor's office whose large brick walls keep the students away from the coast.
---
Awards


Winner 2008 Ben Franklin Awards: Best New Voice in Children's/YA Fiction
–


Silver Medal 2008 IPPY Awards: Juvenile/Young Adult Fiction
–


Winner 2008 Next Generation Indie Book Award: Young Adult Fiction
–


Winner 2007 London Book Festival: Teenage Category
–


Finalist 2007 USA Best Book Awards: Teenage Category
---
About the Author
Kim Culbertson
Kim Culbertson has taught high school English, Creative Writing and drama for over ten years in both public and private schools. Currently, she is the College Advisor and Creative Writing teacher at Forest Charter School, a progressive personalized learning program. Throughout her teaching, she has also worked privately as a college advisor, workshop teacher, and educational consultant. Kim Culbertson has written short fiction for Cicada and her first novel, Songs for a Teenage Nomad. Kim sees her writing as an extension of her teaching. She lives in the Northern California foothills with her husband and toddler daughter, where she loves to drink coffee and look at the clouds.