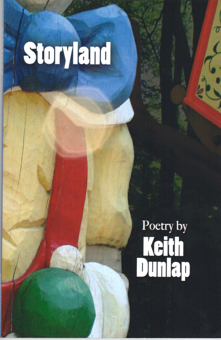 by Keith Dunlap
Publication date: June 15, 2016
Available for $16.00 from your local bookstore or
www.amazon.com
Betsy Scholl, author of Otherwise Unseeable and Rough Cradle, has called Keith's poems "both skeptical and grateful, full of wonder and irony."
"Storylandis a rich collection of moments, some chiseled and sharp, some sea-smoothed by memory's constant lapping … And then there's the music; it's everywhere, and has filled these poems to overflowing—instruction and delight in one brilliant turn."
This highly stylized, intelligent and witty debut collection of poems is at times humorous, at times insightful, always fresh and sophisticated.
---
Bio
Keith has been on the poetry scene for years and formerly co-edited first the Columbia Review and then Cutbank while earning his MFA at Montana. He has been a member of the avant-garde theatre group, New York Art Theatre Institute, and his often surprising and quirky points of view result in some delightful turns of phrase that reflect this cutting-edge theatre experience.
---
Reviews
"In these poems the imagination does not provide an escape but instead opens up an alternate space…where Dunlap explores our tenuous, ever-shifting connections with the world, the past, the present moment, literature, each other, and ourselves. … Dunlap inhabits the 'uncertainty that makes the world alive' and that Keats tells us is necessary for the imagination to thrive. The sensation is sometimes pleasant, sometimes disturbing, and sometimes both at once. The result is a book that 'reanimates every shimmering shaking detail of the day, creating/ a magnificent invitation.' I urge you to accept that invitation."
– Jeffrey Harrison, Into Daylight and Incomplete Knowledge.
"Not for the faint-hearted, this book makes the lover of truth leap out of his seat. It's 'uncertainty that makes the world alive,' says one of the poems in Storyland, the same uncertainty that is also the source of our distress. As a student of the ancient classics, particularly the Stoics, Dunlap has no trouble seeing the fictional or unreal aspects of human life. Storyland is a bracing antidote to the allures of personal and national grandiosity. It greatly rewards our need to know ourselves better."
– Roger Mitchell, Lemon Peeled the Moment Before: New and Selected Poems