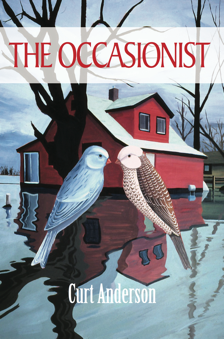 by Curt Anderson
Publication date: November 1, 2014
Available for $15.00 from your local bookstore or
www.amazon.com
Reviews
"Lushly descriptive, Curt Anderson's poems survey and weigh the soulful properties of an everyday life at which "silence arrives." In ways that dare, stun or delight, his watchful poems signal divinity. Again and again, they point to the vast outback of mysteries that occasion life-jammed moments that cry out or whisper."
– Al Young, California's former Poet Laureate
In The Occasionist, Curt Anderson's first full-length book, he already shows himself as a master of language. These are modern poems in the best sense, full of daring associations and unexpected turns of phrase, playful yet accessible. This is a sensibility that fuses nature and the mundane clutter of the world into its own idiosyncratic metaphor. His poems inhabit a place filled with "great orchards of ripening geometry," and with "the sadness of machines/of tears and their silk wheels." His range is broad enough to demonstrate both poignancy – as in the poems of his father's decline and death — and outright hilarity ('Platonic Love,' 'The Auto Body Shop'). In 'Holiday in the Sun,' he says, "I want this to be my life: filling my mind/with the music of chosen light." It is his life, and he has generously shared it with us."
– Jeanne Wagner, author of In the Body of our Lives
"Curt Anderson's work is so original, fresh, funny and poignant and — I hate to use the cliche — but here goes: accessible. I especially like the way he anthropomorphizes objects and emotions in his poems. You read the lines and think 'Yes! Ha!'"
– Lolly Winston, New York Times bestselling author of, most recently, Happiness Sold Separately and Good Grief.
---
Good Morning America
may I direct your attention to the great orchards of ripening geometry
the diesel snores of the Canadians safe in the attic of our hemisphere
to the abandoned motel at the edge of sense surrounded by its moat of gravel?
there the venereal salesman lies beside the perennial blonde
her pink slipper drifting irretrievably toward fascism
on such a morning the birch shadows snare on the gleaming fences
the great rivers conduct their marriages in bookish silence
and the unfinished skyscrapers harden at the first touch of light
now shall we join the dough-faced immigrants as they begin
to sing our national anthem – but softly lest we wake the government
---
Platonic Love
We dine at Adorno and return to my Beauvoir.
She compliments me on my Bachelard pad.
I pop in a Santayana CD and Saussure back to the couch.
On my way, I pull out two fine Kristeva wine glasses.
I pour some Merleau-Ponty and return the Aristotle to Descartes.
After pausing an Unamuno, I wrap my arm around her Hegel.
Her hair smells of wild Lukacs and Labriola.
Our small talk expands to include Dewey, Moore and Kant.
I confess to her what's in my Eckhart. We Locke.
By this point, we're totally Blavatsky.
We stretch out on the Schopenhauer.
She slips out of her Lyotard and I fumble with my Levi-Strauss.
She unhooks her Buber and I pull off my Spinoza.
I run my finger along her Heraclitus as she fondles my Bacon.
She stops to ask me if I brought any Kierkegaard. I nod.
We Foucault.
She lights a cigarette and compares Foucault to Lacan.
I roll over and Derrida.
---
The Bell
since you moved away
to a town none of us can pronounce,
we sit on twin couches awaiting your arrival.
O the long interstate of that.
you're never here to be
the reach of every word.
our stories pause at a passing car.
we watch the television tell us what we don't have,
waiting for the bell you have become.
or we open the door to darkness,
the folding moment in which you will not appear,
a slant of streetlight or hiss of rain.
we wonder why you refuse to wash away
the wreck of our chatter, the mixed nuts.
even the dour children hang on a twig
scratching the blackened window.
we hear footsteps on the gravel,
an old car door clucked shut.
but it is never you,
only the telephone rattling in the kitchen,
coffee grumbling in the background,
an explanation dragged out on a tray
with chalk-white cups,
our hands crumpling in our laps.
and now you are the silence we sit in,
the old stories appearing one by one,
threadbare and homeless.