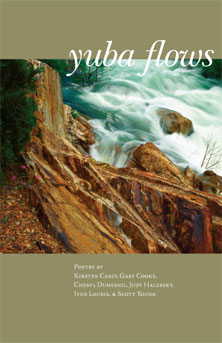 Poetry by
Kirsten Casey, Gary Cooke, Cheryl Dumesnil,
Judy Halebsky, Iven Lourie, & Scott Young
Edited by Gail Rudd Entrekin
ISBN #0-917658-35-3
Available for $14.95 from your local bookstore or
www.amazon.com
Book Reviews
Sometimes when I feel depressed about my country, I remind myself that poetry is alive and well here, from sea to shining sea.  Yuba Flows is a shining example.  Here are six west coast poets with voices that are distinct and fresh, open and true–true to themselves and to the vitality of the American language.  Tender, funny, tragic, sensitive, intense, wild, beautiful–I think Walt Whitman would be proud of all these poets.
– Alicia Ostriker, poet, No Heaven
What strikes me most in this collection is how surely adult these poems are. An earned wisdom steadies each of the very different voices, a kind of generosity that only comes with experience of living. Open its pages anywhere and you will find memories that walk like deer through the fields, the language of longing and distance, and stories of those who don't know how to forgive or regret. The anthology includes love poems, poems of childhood, child-rearing, and travel, myth, reminiscence, and landscape. But its essential nature is commitment – to experience, sensation, and language – beautifully encompassed by the closing line of Judy Halebsky's "Down the Mountain:" …whatever I came with I spent.
– Molly Fisk, poet, Listening to Winter
These poems have clear, visual images such as this from Gary Cooke: Winter is a whiskery thing,/the face of an old cowboy/too long in the hard light, and direct, truth-telling language such as these lines from Kirsten Casey: If there's one thing/losing prepares us for, it's more loss. A varied and engaging debut.
– Ellen Bass, poet, The Human Line
---
Creature
by Cheryl Dumesnil
It had the chrome-scaled body
of a sardine, pointed blue wings,
a barn swallow's, a sewer rat's
ringed tail and yellow teeth.
It coughed blue sparks, thrashed
in the ice plant as I stepped up
on the curb outside her house.
Hung from its neck, a dog tag
read: Love. Which explains why
I was scared to touch it, or walk away.
---
Down the Mountain
by Judy Halebsky
Take me as nothing left
lift me twisted through granite and moss
water lung, milk waist, sage
I pass through these pages like a ghost
erase my shape in the sun on the porch
brown my skin into the riverbed
push my words into a lullaby
paper lung
milk waist and sage
whatever I came with exhausted
I pass through these pages like a ghost
whatever I came with I spent
---
Late Night Violin Practice with Margarita
by Scott Young
I have recently taken up violin
and margaritas, though
not necessarily in that order.
It begins with lime, salt and
enough tequila to feel it in your nose
when you exhale,
enough lime to make you pucker up
a bit, and salt to make you thirsty
so you'll take another sip.
This paves the way for Lesson 1:
Twinkle Twinkle Little Star
written by Mozart when he was just 3
and the first song taught
on every instrument I've ever played.
A song I must have heard a thousand times.
More. But, until now, never understood,
or even liked. Taste the lime, exhale,
play it again. It's nice. Melodic. Just six notes.
Same six notes in Go Tell Aunt Rhody,
which is Lesson 3. Only two strings so far.
'Why,' my daughter asked earlier, her head tilted sideways
to hold the violin on her thin shoulder,
'why does Aunt Rhody want to know?'
Myself, I always thought she loved the old goose
and wanted to mourn it, but perhaps,
my daughter opined, she simply wanted to eat it.
A quandary. Another sip. Another.
Lesson 7: Long Long Ago, seven notes. Coincidence?
I think not. Even more momentous—the third string.
Complexity, resonance, possibility. Judicious swallow.
All are in bed and night enfolds the house.
Lesson 9: Perpetual Motion—My life:
It ends and there is silence
it begins and there is music and
somewhere in between
drinking.